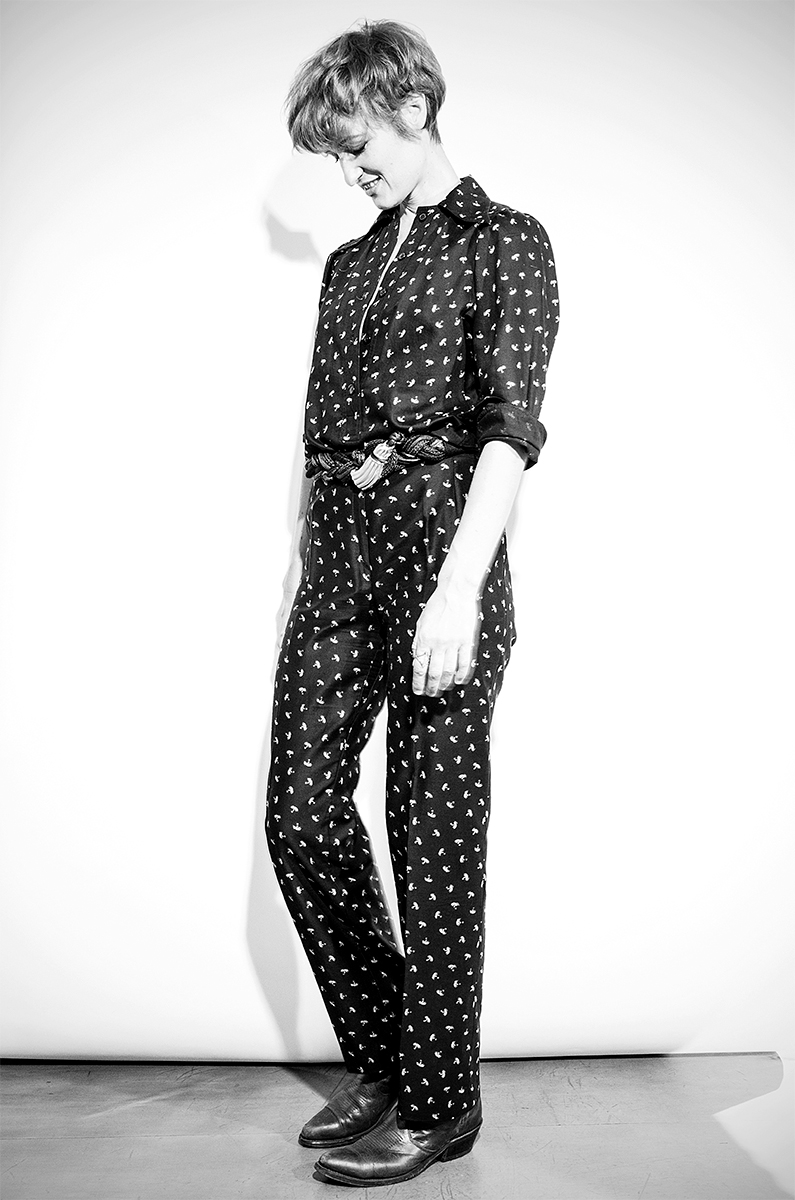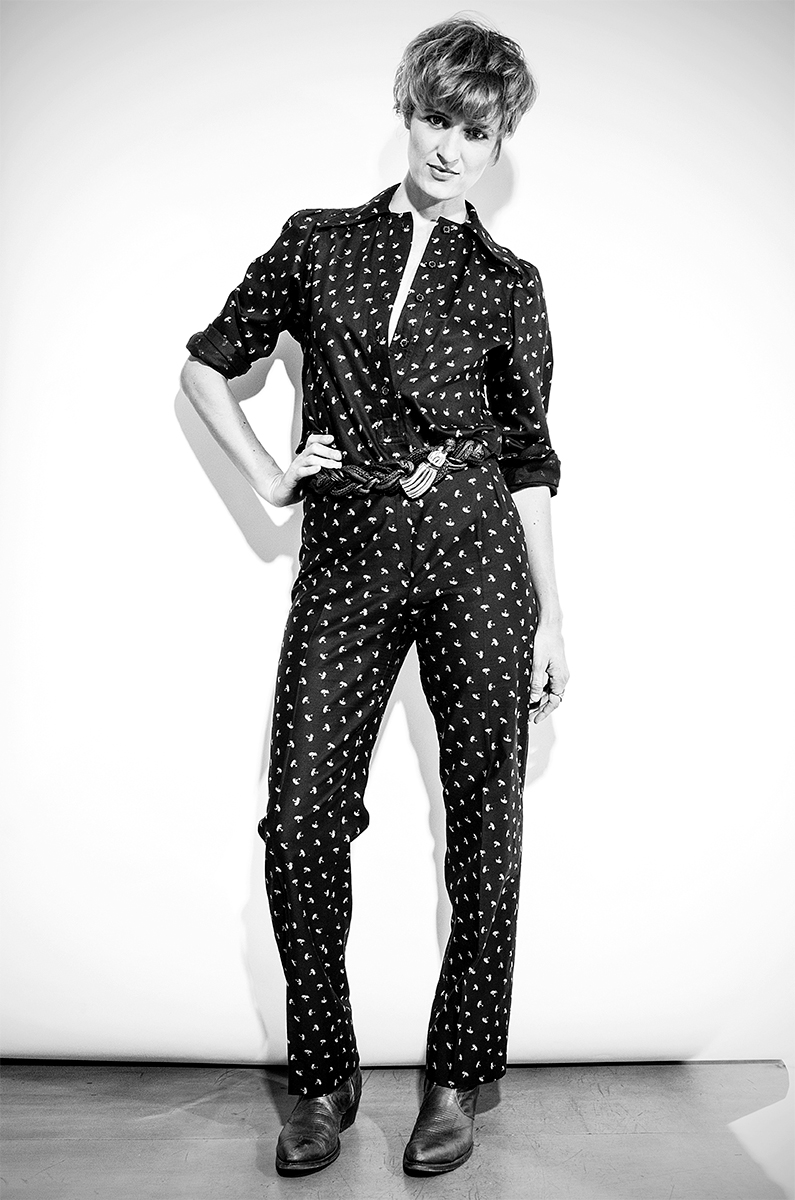 Breeda Wool
Images and Video by Jan-Willem Dikkers
"The age of the feminine is coming through, where in order to survive
we're going to have to care about some shit.
We're going to have to reach out and empathize, and not dominate
and wreck everything and drop bombs on people."
— Breeda Wool
Breeda Wool
Los Angeles-based actor Breeda Wool stars as Lou Linklatter in Stephen King and David E. Kelley's acclaimed TV series Mr. Mercedes, now in its second season on the Audience Network. She played Faith Duluth on Lifetime's hit series UnReal in 2015, appeared in the  Amazon-produced series Betas, and starred in the all-female horror anthology XX, which screened at the Sundance Film Festival. Wool also produced and starred in the short films Rflktr and Miss Miao.
Mr. Mercedes
Based on the novel of the same name by Stephen King, Mr. Mercedes (2017–) is an American mystery-thriller television series developed by David E. Kelley. The series stars Brendan Gleeson and Harry Treadaway, and follows a demented killer and the retired police detective who strives to bring him to justice. The show's second season premiered on August 22, 2018, and is based on the novels in Stephen King's Bill Hodges Trilogy: Mr. Mercedes, Finders Keepers and End of Watch.
UnReal
UnREAL (2015–18) is an American drama television series that premiered on Lifetime on June 1, 2015. It stars Shiri Appleby as a young reality television producer pushed by her unscrupulous boss (Constance Zimmer) to swallow her integrity and do anything it takes to drum up salacious show content. The show was created by Marti Noxon and Sarah Gertrude Shapiro, and was inspired by Shapiro's award-winning independent short film Sequin Raze. The show's fourth and final season was released on Hulu in July 2018.
Breeda Wool is gathering plenty of attention for her current on-screen role—that of Lou Linklatter in Stephen King and David E. Kelley's acclaimed TV series Mr. Mercedes. Before portraying the tattooed, motorcycle-riding Lou, Wool cut her teeth as a dancer and street performer, and later became a fan favorite for her role as Faith Duluth on the hit series UnReal. She chats about watching her own sex scenes with her dad, working as a therapist, and playing gender-fluid characters on screen.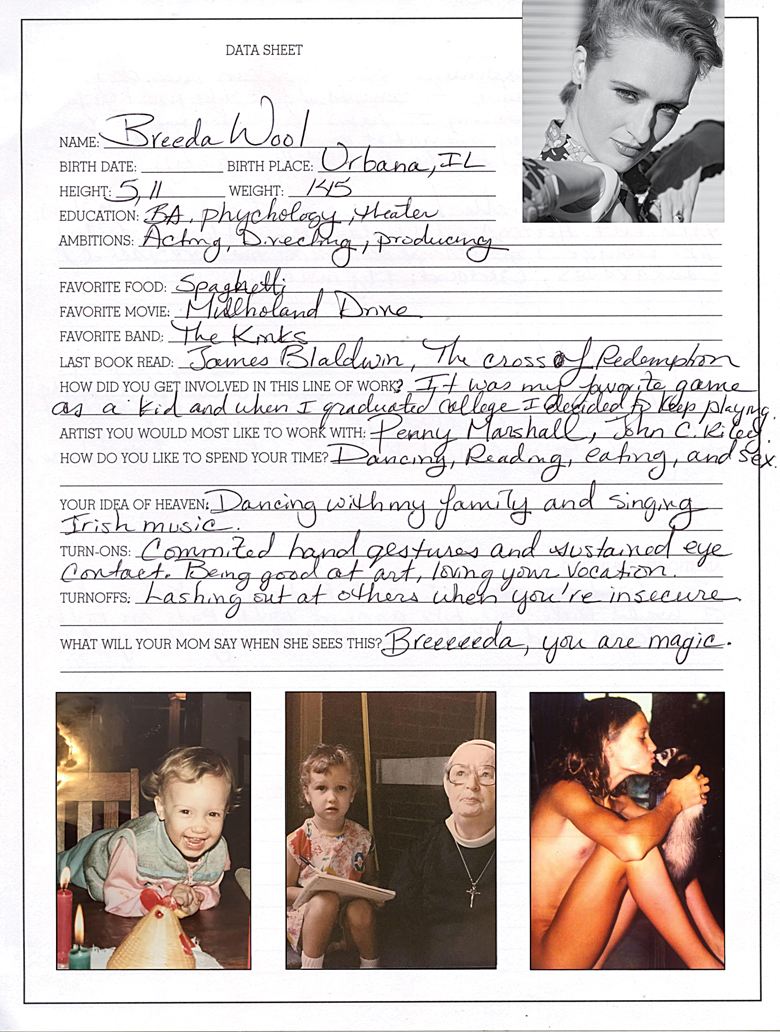 Where are you from?
Champaign-Urbana, Illinois. Or Shampoo banana, Illinois.
Education:
BA, psychology, theater.
Favorite food:
Spaghetti.
Favorite movie:
Mulholland Drive.
Favorite band:
The Kinks.
Your idea of heaven:
Dancing with my family and singing Irish music.
Turn ons:
Committed hand gestures and sustained eye contact. Being good at art, loving your vocation.
Turn offs:
Lashing out at others when you're insecure.
What was your first break?
I'm still waiting for it. No, just kidding. I did my first film because I was dating an Irishman. My friend from college, a guy from Belfast, got me the film, which was with Lauren Wolkstein—who has gone on to make extraordinary films. We made a movie where I was a guitar-playing homeless cowboy. I remember I got my boobs out and I had an orgasm on screen, and the first time I watched the film was with my dad. I thought it was going to be really cool like, "Mom, Dad, I've made it. I've done something. I made this thing," and then I'm watching this intimate moment with me and this other woman, next to my dad. We didn't look at each other at all during the film and then at the end of it, my father— who is also an Irishman—was like, "It's amazing."
So that was the first thing I did, and started the path of my parents encouraging me for years and years to come.
What have you been in?
I was a street performer. I did movement and dance things for years. I did Shakespeare in New York and then I did a TV show called UnReal where I played a wonderful lady named Faith. I was on a show called Betas and now I'm on Mr. Mercedes on the Audience Network and it feels like a masterpiece. It's Stephen King and David Kelley, and it's this beautiful portrait of a serial killer and a detective. In the story I'm the serial killer's only friend and I ride a motorcycle and have neck tattoos, and my name's Lou Linklatter.
How do you feel about this career?
It's simultaneously horrifying and stable, and maddening, and then I have moments of intense and deep gratitude and awe that I get to play make-believe as a grown-up and people give me money to do it, and I get to go onto sets with groups of people and all they want to do is play make-believe, and we make up stories and we tell them to people and then wherever you are out there, you experience something and maybe we can experience something together and I don't feel so alone in the world and we are all in it together. So yes, I like it.

"I have moments of intense and deep gratitude that I get to play make-believe as a grown up and people give me money to do it."
— Breeda Wool

How did you decide to become an actor?
It was my childhood game. It was my game when I was a kid. I always thought that being an actor was like a service job and I thought that unless I had autonomy over my own art, from either writing it, creating it, producing it or directing it—which is something I'd like to do someday and I've done some of that already—that it was some sort of service job. And I guess I've learned that that's not true, or that it's kind of cool to do something for something else. A little maturity in my life.
How would you describe your specialty or type?
I don't think I have a type. I think I can empathize with a lot of different people. I definitely play a lot of gender-queer people and I have since I was a kid. I played Bottom in Midsummer Night's Dream. I was Mercutio in Romeo and Juliet. I was often placed in sort of gender-fluid situations.
Whether that says something about me or reflects something back to me personally, sure, why not. I'll take it, I'll take those reflections. But I also think it's fun and exciting to extend myself into states of mind that I'm not familiar with at all. I actually love that even more.
Penny Marshall
Carole Penny Marshall (b. 1943) is an American actress, director and producer. She rose to fame in the 1970s for her role as Laverne DeFazio on the television sitcom Laverne & Shirley (1976–1983), receiving three Golden Globe nominations for her portrayal. Marshall progressed to directing films in the 1980s, making her directorial debut with Jumpin' Jack Flash (1986) before directing Big (1988), which became the first film directed by a woman to gross more than $100 million at the US box office.
Who is your favorite actor, one that you look up to?
Phillip Seymour Hoffman is somebody I really love. Penny Marshall: I wouldn't mind walking that path at all. She ended up directing Big and A League of Their Own. I like Meryl Streep, doesn't everybody? Because she always makes it not about her, it's always about the story. Brendon Gleeson, who I work with on Mr. Mercedes, that man makes me feel good about my career choice.
What would your ideal job be?
My ideal job is this one, it's this acting job. It's insane, and I could be employed one year and be unemployed the other, which makes it super hard to plan ahead. But I also have a degree in psychology and I worked in a psychiatric center in Staten Island for a while. I don't know if you've ever been to a therapist but that job is…whoa! I don't think I'd want to do that. Just sit around being like, "hmm, how can I love and care and help you from a professional point of view?" It seems really intense and you'd have to have really good clear boundaries, which is not something that I'm well-practiced at.

"I definitely play a lot of gender-queer people, and I have since I was a kid. Whether that says something about me or reflects something back to me … sure, why not? I'll take it."
— Breeda Wool

Do you consider yourself to be lucky?
Shockingly so.
What advantages do you have?
I'm born of two loving parents in a country not at war and in an upper middle class, educated family. I have so many advantages and I have so many entitlements that I try to become clear and aware of. I know not everyone starts with the same starting point and I think as a citizen it's important to know how you have a leg up. What you should do is think, "If I'm ahead in this way I need to turn around and look at my surroundings and go, 'let's go team, everyone lets go'" and help and provide for that. I do not think that any of my born advantages are of my own making.
Would you rather have a car or diploma?
A diploma. My father was a scientist. I went in to college as a physics major. I always have this weird thought in my brain, like I never had a "plan B" for this acting thing. Would I go back to school for physics or electrical engineering or something? Maybe, I don't know. If you are hiring an electrical engineer intern I'm available.
How do you feel how interconnected the world is becoming?
I think it is the antidote to a dying age of fossil fuels. That sharing and reaching out. Every great leap forward in technology comes with a great leap forward in human consciousness and I'm very excited about this particular technology that has come around in the last fifteen years and what that will mean for human consciousness.
It seems scary and seems like it is going to be awful and destructive but I actually think that it is the antidote to our own destruction. The age of the feminine is coming through where in order to survive we're actually going to have to care about some shit. That is one thing that is inherently human is surviving and adapting. In order to do that we're going to have to reach out and empathize and not dominate and wreck everything and drop bombs on people.

"I remember I got my boobs out and I had an orgasm on screen, and the first time I watched that film was with my dad."
— Breeda Wool

What does the future look like to you?
I am intensely hopeful and optimistic. I am in my most intense depressive state of existence. But at my core I feel it's going to be okay which is a weird thing to feel in the wake of intense sadness, but I feel like we're built for togetherness. I personally have had a lot of crazy shit happen in my life, lots of death, people taking their own lives, people dying suddenly.
The future is still amazing, it's still a party, and it's incredible. The most incredible thing is that the more you educate yourself about where you came from the more that you can change your future. I'm just in the process now of really trying to educate myself on how I got here and then figure out how I can change it because I do not think of myself as a powerless person so if you figure out how to change something, that's your future. That's my future.
How do you feel about having children?
I like the idea of adopting a baby, a lot, so I've looked in to that. I think it's magical to squish your DNA with someone you love and then make a thing that is a reflection of you and your soul and all your ancestors and all that shit, but it's also super magical to find somebody who already exists, who needs the epigenetic factor of influencing someone's life and then having that change who they are…that's also amazing and magical.
But I like breastfeeding. It's really cool. Like spraying breast milk out of your breasts. Who wouldn't want to do that? I don't know. I'm an actor so I do have some narcissistic tendencies. So having something come out of my vagina, looking at it, it looking like me, it looking back at me and me being like, "Oh everything's right with the world." I guess that is kind of cool too. I don't know.

"The future is still amazing, it's still a party, and it's incredible. The most incredible thing is that the more you educate yourself about where you came from, the more that you can change your future."
— Breeda Wool

What challenges do you feel the world is facing today?
We have more atomic weapons. Since World War II many countries have developed enough weapons to kill everybody on earth. Right now we're in this place of the great peace and part of the great peace came about because of the deep understanding of the ability that we now have to destroy ourselves. It's like if you have a gun in the house—human beings have a gun in the house.
But I think that what is happening is we've had enough generations go by since World War II that we no longer understand that guns can kill people. I feel like we're a generation that isn't aware and understanding of the power that we've accomplished and possess. I do think we have the tools to become hyper-aware and hyper-knowledgeable about ourselves and our potential and possibilities.
What are you most grateful for?
My mom.
What is your favorite way to communicate?
Physically.
What is your favorite book, film and music right now?
I'm reading James Baldwin's collection of work in the compilation The Cross of Redemption. I highly recommend that to anybody. I'm making music right now with my partner. He is part of a band called The Brinks so we made our first song. I feel very shy about—it's fun when you do something artistically different or new because it feels like you're in middle school and you have a crush on somebody and you have just kissed them for the first time. That is how I feel about making music right now. I've also been listening to Patti Smith and Morrissey.
Can I extend the film question to TV? I just watched Sandra Oh's Killing Eve. I'm obsessed with the actress who plays the killer. I recommend watching that show, and Mr. Mercedes, obviously. Self-promotion.