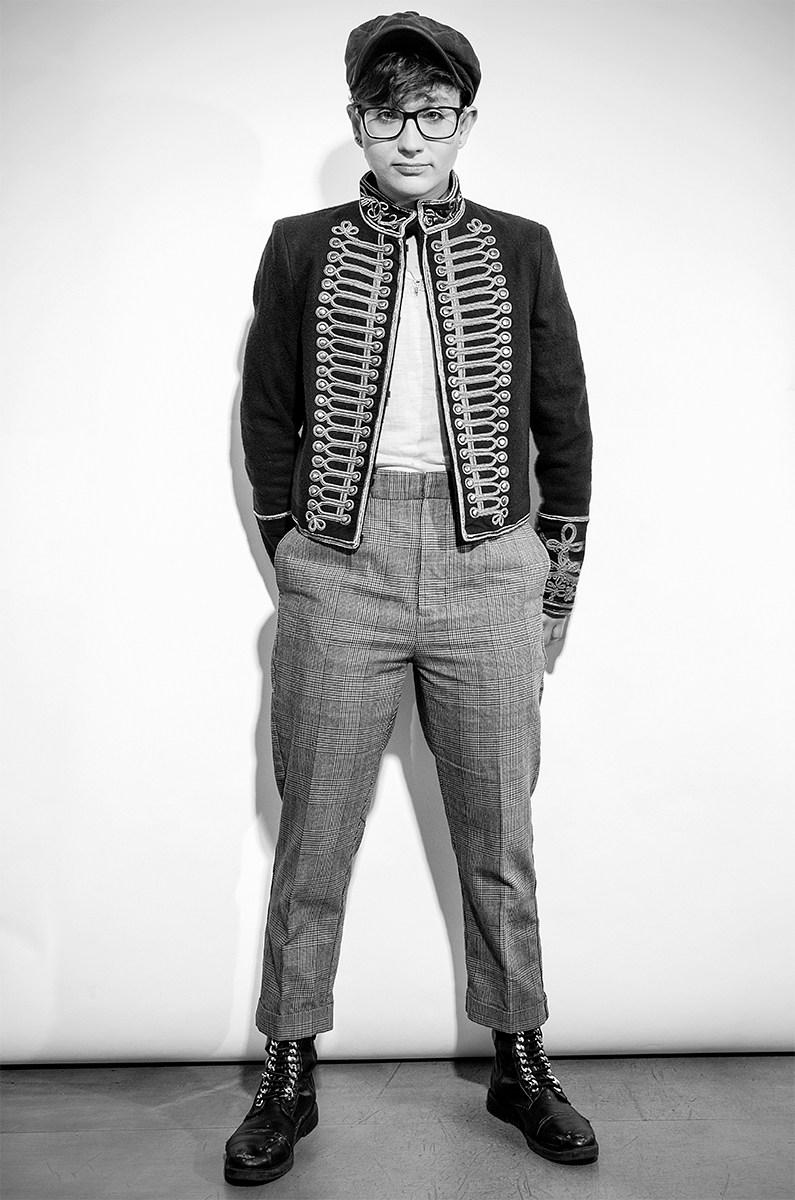 Bex Taylor-Klaus
Images and Video by Jan-Willem Dikkers
"My parents put me in acting classes because they thought
it would be cheaper than therapy.
They were wrong—but it worked out fine."
— Bex Taylor-Klaus
BEX TAYLOR-KLAUS
Rebecca Edison "Bex" Taylor-Klaus (b. 1994) is an American actor whose first professional role was playing a gender-fluid lesbian on the third season of AMC's crime drama The Killing in 2013, earning a cult following among fans. Subsequent work includes the superhero drama series Arrow (2013–15), the comedy series House of Lies (2014), and the horror series Scream (2015–16), and the horror film Hellfest (2018). Since 2016 the actor has voiced the role of Katie "Pidge" Holt on the Netflix animated series Voltron: Legendary Defender 9 (2016-), and is currently filming Blackbird, a remake of Bille August's Danish-language film Silent Heart, alongside Susan Sarandon, Kate Winslet, Mia Wasikowska, Sam Neill, Rainn Wilson and Lindsay Duncan.
THE KILLING
The Killing (2011-14) is an American crime drama television series based on the Danish television series Forbrydelsen (The Crime). The American version was developed by Veena Sud and premiered on the AMC network. Set in Seattle, Washington, the series follows the various murder investigations by homicide detectives Sarah Linden (Mireille Enos) and Stephen Holder (Joel Kinnaman). The show's fourth and final season was released on Netflix in August 2014.
DUMPLIN'
Based on the young adult novel of the same name by Julie Murphy, Dumplin' (2018) is an American coming-of-age comedy film directed by Anne Fletcher and written by Kristin Hahn. The film stars Jennifer Aniston as former beauty queen Rosie Dickson, and Danielle Macdonald as Willowdean "Dumplin'" Dickson, her plus-size teenage daughter. When Dumplin' signs up for her mom's Miss Teen Bluebonnet pageant as a protest, other contestants follow her footsteps, revolutionizing the pageant and their small Texas town.
Bex Taylor-Klaus rose to fame starring as Bullet—a homeless but street-wise teen wanting to protect sex workers—on AMC's critically acclaimed crime drama series The Killing (2011-2014), a role that accumulated a massive fan following. Taylor-Klaus, a fourth generation Atlantan who identifies as gender non-binary, is seen to be clearing a path for gender non-conforming artists in mainstream media and works closely with LGBTQ+ organizations like GLAAD. Now the actor is flexing substantial comedic chops alongside Jennifer Aniston in the upcoming Netflix musical comedy Dumplin', playing the eponymous character's beauty pageant-disrupting friend. Here, Taylor-Klaus talks about connection, being "the weird one," and why playing an uber-villain is a life-long goal.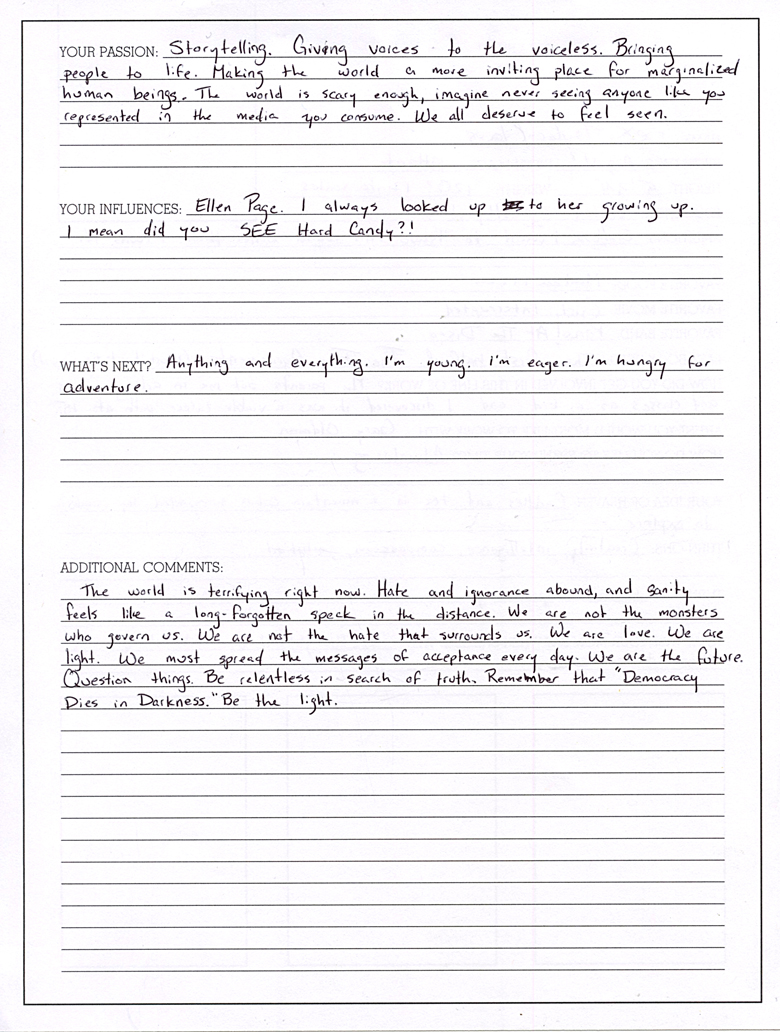 Where are you from?
Atlanta, Georgia.
Education:
Varied … mostly life.
Favorite food:
Meatza pizza.
Favorite band:
Panic! At the Disco.
How do you like to spend your time?
Adventuring.
Your idea of heaven:
Cuddles and tea in a mountain cabin surrounded by woods to explore.
Turn-ons:
Creativity, intelligence, compassion, ambition.
Turn-offs:
White supremacy.
What was your first break?
My first break was Bullet on The Killing—the AMC show with Joel Kinnaman and Mireille Enos.
What else have you been in?
That is a good question. I've been in a state of denial most of my life but that is not the question. I've been in MTV's Scream series, The Killing, Netflix's Voltron: Legendary Defender. I just pop up in your favorite shows sometimes.
How do you feel about this career?
I love this career. Are you kidding me? It's the best thing in the world. I get to vacation in other people's lives.
How did you decide to become an actor?
My parents put me in acting classes because they thought it would be cheaper than therapy. They were wrong—but it worked out fine. I kind of fell in love with it.

"I love this career. Are you kidding me? It's the best thing in the world. I get to vacation in other people's lives."
— Bex Taylor-Klaus

How would you describe your specialty or type?
My specialty or type? Probably the weird one. The abnormal one. The unique one. The one that most people would label strange and unusual, borderline unnecessary.
Who is your favorite actor you look up to?
I love Gary Oldman, I think he is absolutely brilliant, a total chameleon, he can do anything.
LOKI
Loki is a fictional character appearing in American comic books published by Marvel Comics. He is the adopted brother and often the enemy of the superhero Thor, and is sometimes depicted as an antihero. Loki has appeared in several ongoing series, limited series and alternate reality series, and began appearing in his solo series Loki: Agent of Asgard in 2013 and again in 2016 with Vote Loki. The character has also appeared in associated Marvel merchandise including animated television series, movies, video games, clothing and toys. In 2009, Loki was ranked as IGN's 8th Greatest Comic Book Villain of All Time.
What would your ideal job be?
I want to play Loki. I want to be a non-binary Loki really badly. I've always wanted to be a villain and Loki is an anti-hero villain. They are just so fascinating.
Do you consider yourself to be lucky?
I am extremely lucky.
What advantages do you have?
I am different. I'm strange, my brain is wired a little bit differently and I've got a different way that I view the world. It gives me the ability to be very present regardless of whatever is happening around me.
How do you feel about how interconnected the world is becoming?
I love how interconnected the world is becoming. I think it is important. What is life without a connection? Boring.

"My brain is wired a little bit differently and I've got a different way that I view the world. It gives me the ability to be very present regardless of whatever is happening around me."
— Bex Taylor-Klaus

What does the future look like to you?
The future looks colorful.
How do you feel about having children?
I'd love to have children, I just don't want to birth them.
What challenges do you feel the world is facing today?
So many. Oh God, so many where do I start? Xenophobia, racism, nationalism, those are the ones at the top of my head.
What are you most grateful for?
I am most grateful for the people in my life whom I love and who love me.
What is your favorite way to communicate?
Sounds. I like to communicate through random sounds.
What is your favorite book, film and music right now?
My all-time favorite song is "Iris" by the Goo Goo Dolls. My favorite book … I really love Dietland by Sarai Walker. My favorite movie is Girl Interrupted.