Matilda Lutz
Images and Video by Jan-Willem Dikkers
"I was allowed to say bad words and behave like a bad girl,
and no one was judging me."
— Matilda Lutz
Matilda Lutz
Italian actor Matilda Lutz is best known for her appearances in Rings (2017) and Revenge (2017). She is slated to appear in upcoming films The Divorce Party and Ecstasia.

Rings
Directed by F. Javier Gutiérrez, Rings (2017) is an American supernatural psychological horror starring Matilda Lutz, Alex Roe, Johnny Galecki, Aimee Teegarden, Bonnie Morgan and Vincent D'Onofrio. The film is the third in popular The Ring series, a sequel to The Ring (2002) and The Ring Two (2005).

Revenge
Written and directed by Coralie Fargeat, Revenge (2017) is a French horror film starring Matilda Lutz alongside Kevin Janssens, Vincent Colombe and Guillaume Bouchède. The plot follows a young woman raped by three married men who come back for revenge.

The Divorce Party
Directed by Hughes William Thompson, The Divorce Party follows a fresh divorcee in his late twenties who plans a huge divorce party in an attempt to start life over fresh. The film's cast includes Katrina Bowden, Claire Holt, Matilda Lutz and Thomas Cocquerel.

Italian actor Matilda Lutz has made a name for herself in film with her appearances in last year's horror flicks, Rings (2017), the third installment in the successful The Rings series, and Revenge (2017), a chilling French horror about rape and revenge. Her expertise takes a new turn this year towards romantic comedy, with her upcoming film The Divorce Party (2018) about a young divorcee who throws the divorce party of a lifetime in hopes to set his life back on track. Lutz joined us to talk about her experience in film thus far, her love of family and her concerns over climate change.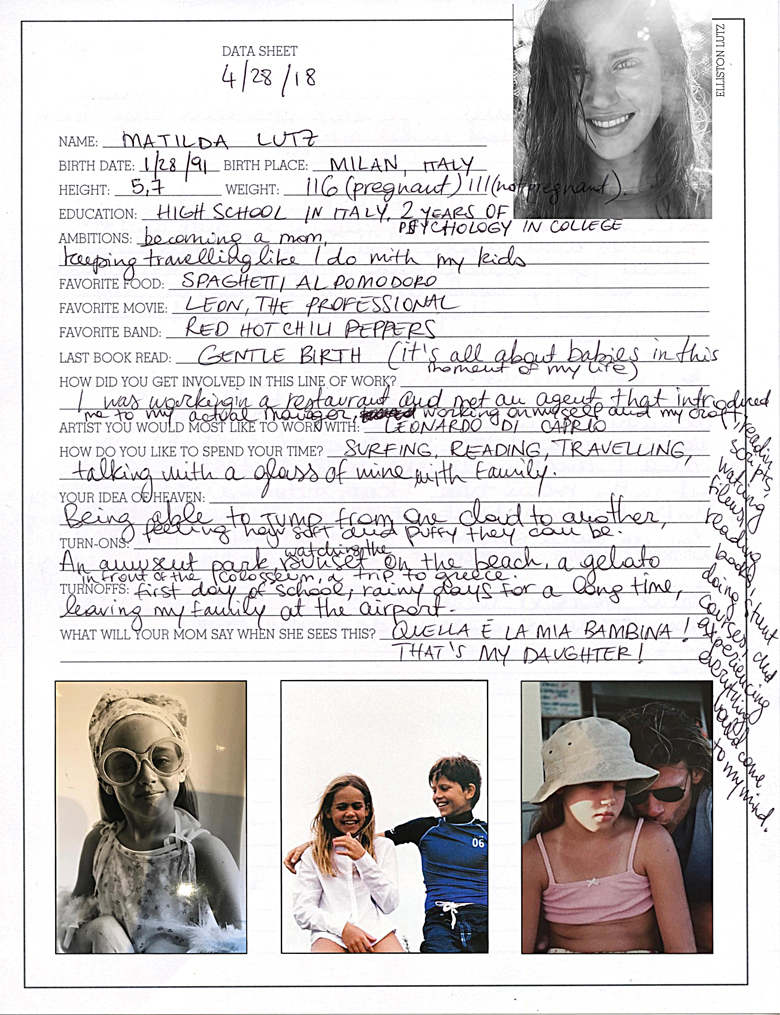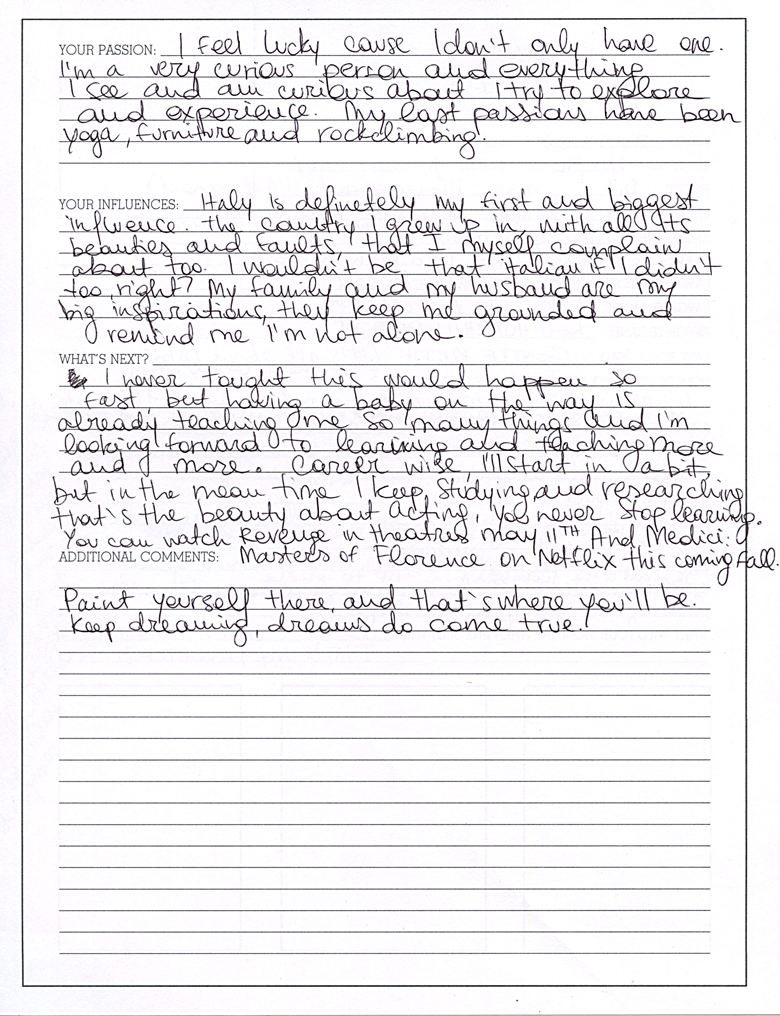 Where are you from?
Born and raised in Italy, but my dad is American.
Education:
High school in Italy, two years of psychology in college.
Ambitions:
Becoming a mom, keeping travelling like I do now but with my kids.
Favorite food:
Spaghetti al Pomodoro
Favorite movie:
Léon: The Professional
Favorite band:
Red Hot Chilli Peppers
Artist you would most like to work with:
Leonardo DiCaprio
What will your mom say when she sees this?
"Quella è la mia bambina!"  That's my daughter!
What was your first break?
I'm still waiting for it.
What have you been in?
I've been in Revenge and Rings, which are horror films. And a TV show about the Medici family that's coming out soon.
How did you decide to become an actor?
Basically, I was done with high school and wanted to take a year off, so I went to New York and took an acting course. I felt it was the first time that I really got to express myself. I was allowed to say bad words and behave like a bad girl, and no one was judging me.
How would you describe your specialty or type?
I love drama, but I love action as well. I'd love to be in a cool action film, like a Bond movie.
How do you feel the people that cast you see you?
The good girl next door. Sweet and happy and smiley all the time.

"I've been everywhere, and I don't feel lonely. Everywhere I am, I get an opportunity to discover something."
— Matilda Lutz

Who's your favorite actor you look up to?
I love Meryl Streep, Julia Roberts and Leo DiCaprio.
What would your ideal job be?
I'm up for anything that's coming to me. I want to be surprised.
What advantages do you have?
My dad is American and my mom is Italian, so I got to travel all over the world. I've been everywhere, and I don't feel lonely. Everywhere I am, I get an opportunity to discover something.
Would you rather have a car or a diploma?
A car.
What do you feel about the need for instant gratification?
It's a good feeling. I think everyone needs that feeling.
How do you feel about how interconnected the world is becoming?
I love it in some ways. I get to speak to my family and see what they're doing and my friends that I don't see often. But there's also too much going on, and you never really know what's true and what's fake, and that bugs me.
What does the future look like to you?
Family. Career after family. It looks bright.
How do you feel about having children?
Great! I'm having one now.
What challenges do you feel the world is facing today?
One in particular: climate change and the whole plastic environment thing. It's pretty disgusting. I was just in Indonesia, and it was so sad how every beach is full of plastic. You couldn't surf because you had plastic bags on your arms. It's very scary.
What are you most grateful for?
Family.
What is your favorite way to communicate?
I love speaking directly to someone, but sometimes I feel a letter works better because you get to really express everything you're feeling and wanting to say without being interrupted.
What is your favorite book film and music right now?
Book, I would say Warrior of the Light from Paulo Coelho. Music, I've been listening to jazz and classical music for some reason lately, but I've never done it before. I just put the radio station on and let it play. Film, the most recent I've seen and loved was The Shape of Water.